Product Description
We are the manufacturer specializes in manufacturing, selling and developing variety kinds of medical equipments and in-vitro diagnostic reagents, Clinical Laboratory Diagnostics information tech and traceability system. With more than 20 years of efforts, we had developed 3-part auto hematology analyzers, 5-diff auto hematology analyzers, hematology reagents, Hematology blood Controls and Calibrators.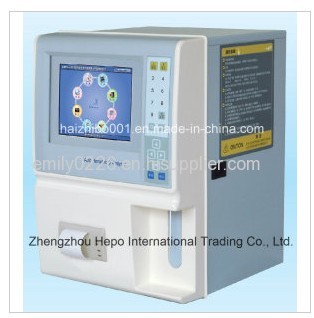 Choosing Reasons:1,3-part Hematology Analyzer. 2,22 test parameters including histogram,scatter diagram. 3,60tests/hour.4,100000results. 5,ISO,CE. 6,Whole production reagent line.7,Video can be supplied


Main Advantages:
1, Flow cytometry, XP operation system
2, Fast, accurate, efficient
3, Closed Puncture sampling, avoid cross-infection
4, SFDA, CMC, CMD, CE certification.
5, Production according to ISO9001, ISO13485 quality management system.



Specifications
Test Items
WBC, LY#, MO#, GR#, LY%, MO%, GR%, HGB, RBC, HCT, MCV, MCH, MCHC, RDW-CV, RDW-SD, PLT, PCT, MPV, PDW, WBC Histogram, RBC Histogram, PLT Histogram
Background Count
WBC: ≤0.3×109/L RBC: ≤0.03×1012/L HGB: ≤1g/L PLT: ≤10×109/L
Linearity
Test Item
Test Range
Allow Difference of Linearity
WBC
0~6.0×109/L
±0.3×109/L
6.0~99.9×109/L
±5%
RBC
0~0.99×1012/L
±0.05×1012/ L
1.0~9.99×1012/L
±5%
HGB
0~99 g/L
±2g/L
100~300 g/L
±2%
PLT
0~99×109/L
±10×109/L
100~999×109/L
±10%
Repeatability
Test Item
CV(%)
Teat Range
WBC
≤2.0
7.0~15.0×109/L
RBC
≤0.5
3.5~6.0×1012/L
HGB
≤1.5
110~180g/L
PLT
≤4.0
150~500×109/L
MCV
≤0.5
80~110fL
Sample Volume
Twig blood: 20μl,Whole blood 13 µl,
Dilution Ratio
WBC/HGB: 1:500 RBC/PLT: 1:50000
Interfaces
RS232 joint, USB, PS2, Parallel port
Test Speed
60 samples/hours
Continuous Work Time
>8h


Supply one year quanlity guarrantee for main body and free training 2 persons for first time.Reagents can be supplied by original produced by ourselves.Various technical support and maintanance suggest by our professional application engineers and sales engineers.

Note:More information for our products and service,please turn to our official website or contact us directly.